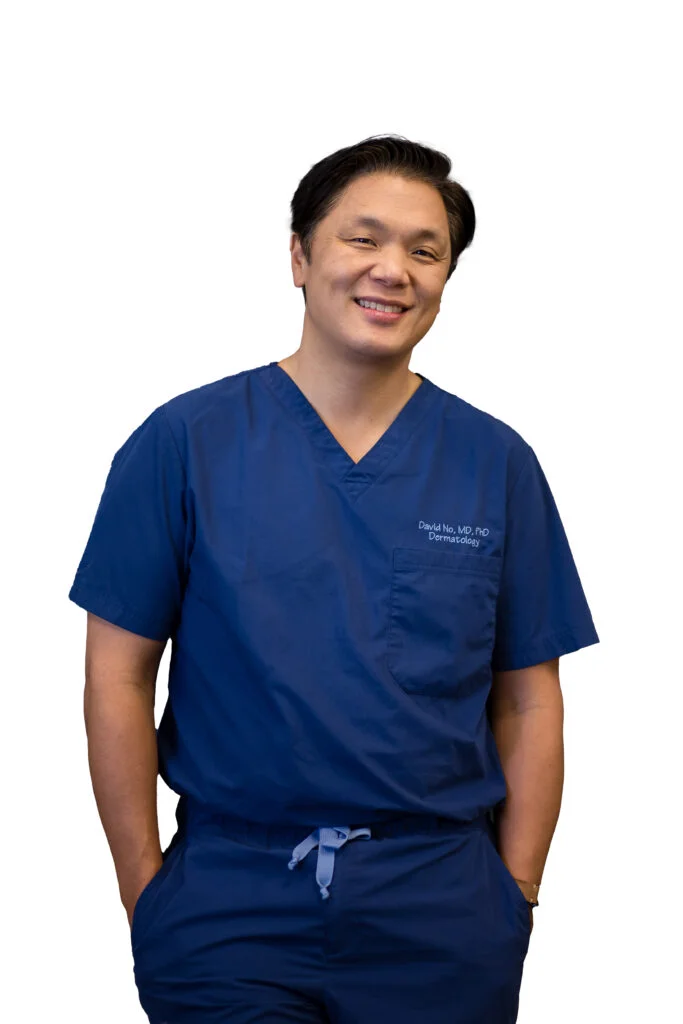 "For his patients, he combines this extensive experience for the optimized treatment of various skin concerns, from wrinkles to leg veins to skin cancer. Espousing a "no compromise" approach to clinical skin care, he is committed to providing his patients effective, safe, and technologically-advanced solutions. Dr. No is a member of the American Academy of Dermatology, American Society of Laser Medicine and Surgery, and the California Society of Dermatology and Dermatological Surgery. "
Meet Dr. No
M.D., Ph.D.
David No, M.D., Ph.D. is a double board certified dermatologist. Born and raised in Southern California, he graduated with highest honors from UC Berkeley with a degree in molecular biology. Following his undergraduate studies, he attended graduate school at UC San Diego eventually achieving a PhD in biomedical sciences. His thesis work centered on hormone receptors, more specifically the use of the retinoid (Retin A) receptor as a gene switch in experimental and animal systems.
Following graduate school, Dr. No attended medical school at UC San Diego graduating with a MD degree with highest honors. Upon graduation, he pursued his residency in dermatology at Harvard Medical School. Shortly after completing his dermatology training at Harvard, Dr. No achieved board certification and became a Fellow of the American Academy of Dermatology. After finishing his residency, he returned to his native California to complete a fellowship in cosmetic and laser dermatology. During that time, he performed research on patients using a variety of lasers and extensively trained in a variety of cosmetic skin procedures. He has authored articles that have been published in scientific and medical journals.

Dr. No is married with two children and enjoys swimming, golf, architecture, reading, and travel.